If you own a logistics business, you need to run a warehouse and storage system. This can save you money and improve your brand's performance. You should be concerned not only with the orders of your customers but also each step that guarantees the delivery of the order.
A warehouse is a place for storing goods before preparing them for shipping. They also offer better control over your inventory and can ensure the orders of your customers are delivered on time. For packaging and shipping needs, warehousing is an excellent option to ensure you always have a good inventory of supplies and have all the materials you need for shipping products.
Here's what you can expect when you consider warehousing your packaging supplies:
Manage your Inventory More Efficiently
To ensure a sustained logistics brand, you need to keep a well-tracked inventory. Poor inventory management can result in delayed order processing, late shipments, and poor customer service. Thus, you need a process that ensures proper orders reception, storage of goods, and product distribution. Managed inventory service providers handle and coordinate the identifying, categorizing, and dispatching of supplies to their storage location while observing necessary security measures. With warehousing, you can be sure that supplies are kept safe until you need them.
Improve Customer Service
When a customer places an order, they expect to know an approximate time when their order would be delivered. Delivery speed is a major factor that customers think about when picking a product to buy and a shipping carrier. As a business owner, you want to guarantee your customers satisfying purchase experience. By having your packaging supplies taken care of by your supplier and stored in their warehouse ready to go, you can be sure to deliver your products to customers on time.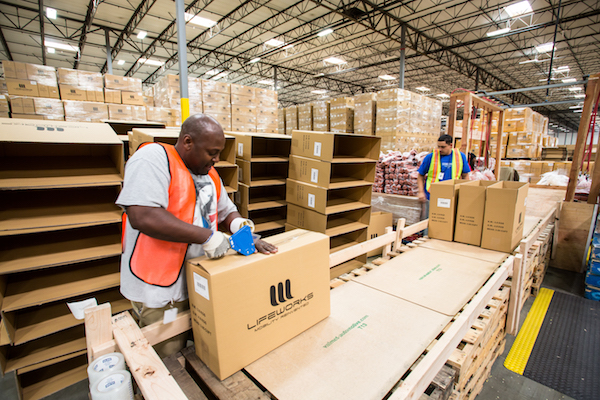 Ensure Effective Packaging and Processing
Aside from storing goods in a spot until when need, warehouses also offer packing and shipping services while providing the equipment you need for moving, packaging, and processing orders from customers. These added-value services can include loading docks, packaging materials, and more. This provides your business with all its delivery needs in one place. Also, it eliminates the need to outsource pickup or hire workers, ensuring efficiency.
Manage Risks
Packaging supplies stored in a warehouse are insured at the risk of the warehouse owner. Therefore, storing your supplies at an off-site warehouse transfers the risk of fire, theft, and damage to the warehouse.